20 December 2019
Chula-Thammasat partner with GC to launch the "Waste This Way" campaign helping the younger generation to save the planet at the 74th CU-TU Traditional Football Match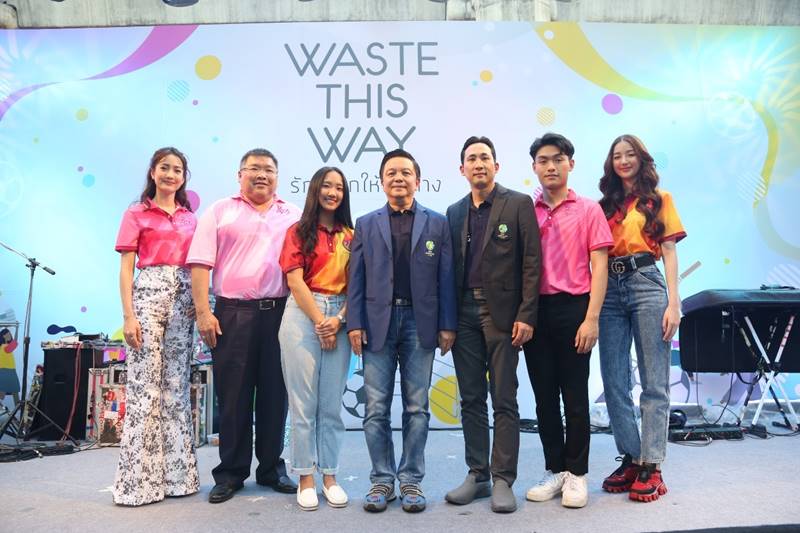 Bangkok: 19 December 2019 – PTT Global Chemical Plc., or GC, together with Chulalongkorn University and Thammasat University, recently announced the launch of the "Waste This Way" campaign: Help Save the Earth the Right Way promoting a comprehensive waste management program at the 74th Chula-Thammasat Traditional Football Match. The campaign aims to increase social awareness and understanding about waste by adopting the Circular Living concept which focuses on the efficient use of resources. Students from both universities will be involved in Waste This Way's activities and communications, making this an important starting point before it is extended to broader segments in society.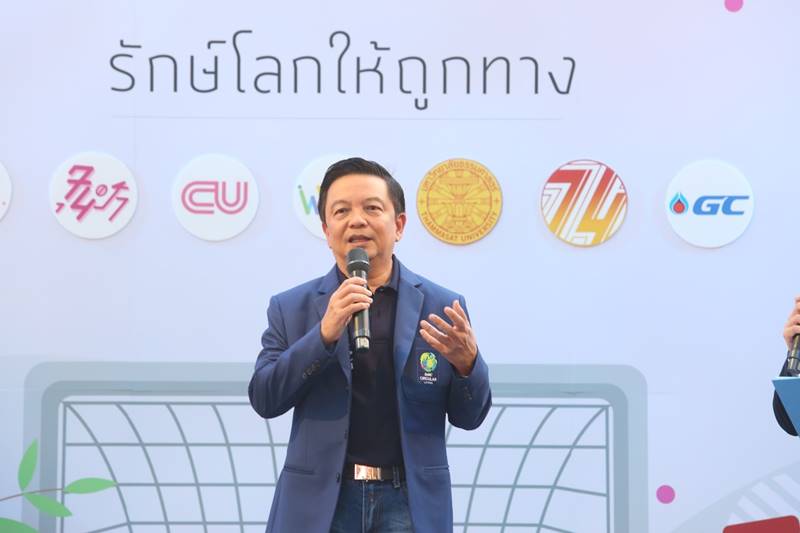 Dr. Kongkrapan Intarajang, Chief Executive Officer of PTT Global Chemical Plc., or GC, said, "GC wants to contribute to sustainable growth by continuously applying the principles of the Circular Economy to its business practices, both internally and externally, to promote the efficient use of resources. Since this goal cannot be achieved without the cooperation of others, we place great importance on promoting Circular Living lifestyle by encouraging the public to adopt this concept – supporting everyone to live responsibly and use resources more efficiently to make the world a better place."
In addition, GC, as a leading chemical company committed to raising living standards, has pledged to build the "Solution for Everyone" model to serve all lifestyles and encourage everyone to help save the environment in their own way. Examples include systematic waste management; the development of GC Compostable bioplastics; fashionable upcycling products from plastic waste such as clothing and bags; as well as our plan to build plastic recycling plant (construction is underway) which can produce food grade and packaging grade plastic used in downstream industries such as food and beverage packaging, cosmetics, and cleaning chemicals and cleaners. Moreover, all activities from this traditional football match will be calculated to be CO2 equivalent that can be successfully reduced.
"GC believes that the 'Waste This Way' campaign, together with the cooperation of the students from both universities will serve as an important foundation to scale up the impact to broader parts of the society. This will also deepen the understanding about waste management and transform knowledge into practice, enabling us to reach our goal in conserving resources and improving the environment," said Dr. Kongkrapan.
Asst. Prof. Dr. Chaiyaporn Puprasert, Vice President for Student and Alumni Affairs, Chulalongkorn University, said, "Chulalongkorn has pledged to be a green university that meets international standards for environmental sustainability and implemented waste management projects through Chula Zero Waste program. On this special occasion in hosting the 74th Chula-Thammasat Traditional Football Match, we are using this important football event as a venue for students of both universities to take part in organizing environmentally-conscious activities and practicing sorting and waste management, demonstrating our commitment in finding alternatives for addressing the waste problem. Together with GC's knowledge and experience, the lessons learned from this campaign will greatly benefit society as a whole."
Asst. Prof. Dr. Parinya Tevanarumitkul, Vice Rector for Sustainability and Administration at Rangsit Center, Thammasat University, said, "Thammasat University believes in raising environmental awareness at the university level to encourage our students to adopt it for the benefit of the society in the future. We are putting the environment as our priority at the policy level in order to ensure that the students realize the importance of the issue as well. Students have always cooperated with the university, and as a result, we have developed a uniform standard in our waste management system. This year, the cooperation will promote effective waste management, and Thammasat University is committed to continuing to further increase awareness of the need to support the environment throughout society. We want to show that saving the world is not an impossible task, and believe that our two universities can do our part, together with other sectors in society."
Mr. Sila Rattanawaleewong, Chairman of the Football Tradition Organizing Committee at Chulalongkorn University, said, "Chulalongkorn students are familiar with waste management through participation in Chula Zero Waste. However, organizing this traditional football competition wasn't easy because we wanted to incorporate environmental support for the event which required the cooperation of several sectors to get everything right. However, since the students from both universities have been recognized the seriousness of waste problem and agreed to step up in order to drive positive social changes throughout the operations of this famous football competition by practicing effective waste management."
Ms. Prapaporn Somwong, Vice President of the Traditional Football Organizing Committee at Chulalongkorn University, said, "This year, we as the organizers of CU-TU Ball 74 will use the concept "Make a CHANGE" which refers to raising awareness about social problems and transforming it into action. For environmental issue, we have adopted the concept of 'Reduce, Change, Sort' in our activities. To do so, we would reduce single-use products, choosing eco-friendly materials, and efficiently segregate the waste afterwards. For example, we are using bio-compostable and eco-friendly cutlery and packaging made from bioplastics for lunchboxes for students in the stands to reduce the use of plastic. This approach will subsequently be expanded to other parts of the event."
Ms. Penpitcha Sathirapanya , President of cheer club Thammasat, Thammasat university, said, "Students at Thammasat University recognize the environmental issues we face and are committed to cooperating with the university in waste management practices. This year's traditional football match is an important way to demonstrate our cooperation and the determination of the two universities to do more for the environment and show everyone how we can have a positive impact, but that more needs to be done and that all sectors in society must work together to successfully tackle the environmental issues we are facing."
Ms. Nistida Photong, Head of the Traditional Football Organizing Committee, Thammasat University Student Union, said, "Many people aren't up-to-date on environmentally-conscious activities involved in daily living, so we as the organizers from both universities decided to include some familiar waste management methods but to also show the end results of sorting and upcycling – such as upcycling PET bottles into trainers for underprivileged young students, or recycling balloon sticks into plastic. By doing so, we hope that the knowledge and experience we gain from this event can serve as a wake-up call for society to take serious action on waste management and to incorporate this into our daily lives."
The 74th Chula-Thammasat Traditional Football Competition will collect waste management data that will be applied towards the development of waste management practices for similar large-scale events. Those who are interested can observe the operations of the campaign at the 74th Chula-Thammasat Traditional Football Match and can follow further details at
Waste This Way's Facebook page: https://www.facebook.com/WasteThisWay/