Risks and Opportunities Associated with Climate Change
GC has analyzed various internal and external risk factors that may occur in its business operations, both in the short-term and long-term. This includes the importance of emerging risk factors that may cause a significant impact on the company and/or industry during the next 3-5 years from the Early Warning System, to determine energy management strategies and climate change. Guided by the Task Force on Climate-Related Financial Disclosures (TCFD) with a climate change action plan, GC is investing in cutting-edge technology to increase production efficiency and use renewable energy. In addition, GC has determined its own internal carbon price.
In addition, GC has clearly defined policies, targets, and key performance indicators (KPIs) to reduce greenhouse gas emissions within its organization for the short-term, medium-term, and long-term. These are in line with efforts to reduce the impacts of international climate change around the world, such as the Thailand's Greenhouse Gas Reduction Goals (NDCs), targets under the Paris Agreement from the 26th session of the United Nations Convention on Climate Change (COP26), the United Nations Sustainable Development Goals 7 and 13 (UN SDGs), the Carbon Disclosure Program (CDP) and the Community Alignment Programmed, along with consumer influence on the supply chain, to move towards a responsibility for product development according to circular economy principles.
Goal 7: Affordable and Clean Energy (UN SDG 7)
Goal 13: Climate Action (UN SDG 13)
Accounting for Greenhouse Gas Emissions
GC has set up a corporate greenhouse gas emissions account based on calculation methods according to ISO 14064-1:2006, The Greenhouse Gas Protocol, American Petroleum Institute (API 2009), Intergovernmental Panel on Climate Change (IPCC) 2006, and Thailand Greenhouse Gas Management Organization (TGO, a public organization) to use as guidelines for the company's greenhouse gas management. In addition, GC must regularly report its greenhouse gas emissions.
GC Greenhouse Gas Report 2020
Risks and Opportunities
GC considers the risks and opportunities associated with climate change and has identified key climate change-related risks and opportunities, consisting of both physical risks and transition risks. GC follows the TCFD guidelines to formulate a strategic plan, action plan, and measures to cope with such risks based on data from the IPCC international body, who has assessed the Representative Concentration Pathways (RCPs) and analyzed climate impacts.
TCFD Report 2022
sociated w has assessed the Representative Concentration Pathways (RCPs) and analyzed climate impacts.
Physical Risks
If global carbon emissions are not effectively controlled, climate volatility will occur, in the form of droughts, floods, and an increase in the frequency and intensity of storms. In addition, rising sea levels and increasing heat waves can pose a significant risk to GC's businesses and the value chain of GC's business partners. GC has prepared various measures to mitigate and cope with such impacts, including:
Measures to mitigate the effects of drought:

GC has taken steps to reduce the amount of water used in its production processes and increase the amount of recirculated water with reverse osmosis technology. GC also monitors the amount of water reserves in the area and locates backup sources of raw materials in case production needs to stop due to insufficient water supply.

Flood relief measures:

GC has prepared measures and equipment to prevent damage from flooding to machinery at its factories, and alternate routes to transport products to customers in case of flooding along the regular route.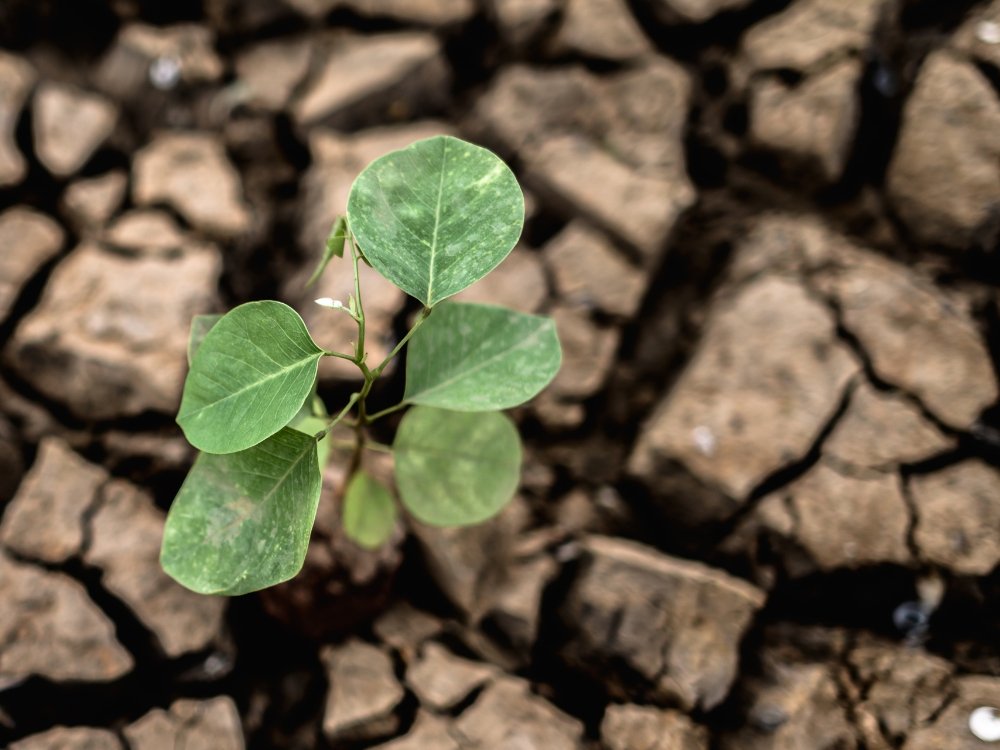 Natural Hazard Implication to GC Business
Water Stress

Water stress may result in unavailability of adequate fresh water. This may lead to disruption of production, utilities and/or the personnel.
Water stress may increase the water sourcing cost, and may require the Plants to rely on more expensive alternate technologies such as desalination.
Water stress in the neighboring communities may lead to shared water challenges, resulting in impact on the communities' perception towards the Plants

Flooding

Inundation of assets, utilities, infrastructures, facilities and increased land erosion.
Disruption damage of infrastructure and movement of personnel and goods.
Loss of value of property.
Personnel and infrastructure Safety

Wind and Cyclone

Damage to existing infrastructure, utilities, facilities and valuables.
Uprooting of trees and other high structures, Reduced productivity and safety in outdoor locations.
Increased discomfort from dust and other airborne materials.
Personnel and infrastructure Safety.

Sea Level Risk

Permanent inundation of areas in township may lead to loss of land infrastructure.
Loss of value of property, Implication on structural safety and design life of boundary walls and other structures.
Sea water intrusion resulting in groundwater contamination.

Extreme Heat

Adversely affect outdoor activities.
Increased water demand for both operations and management.
Increased need for indoor cooling which will further increase energy consumption and costs.
Increased load on cooling systems which may increase the risk of failure.
Exacerbation of heat island effect in urban areas.
Extreme heat events may hamper temperature sensitive processes, and product quality.
Transition Risks
If global carbon emissions are effectively controlled, significant changes in demand and supply infrastructure, as well as relevant laws and policies will occur. GC has assessed business impacts, as well as prepared various measures to mitigate and cope with potential impacts based on forecasted changes according to the Accelerated Energy transition (HIS, 2021) at a temperature change of 2°C.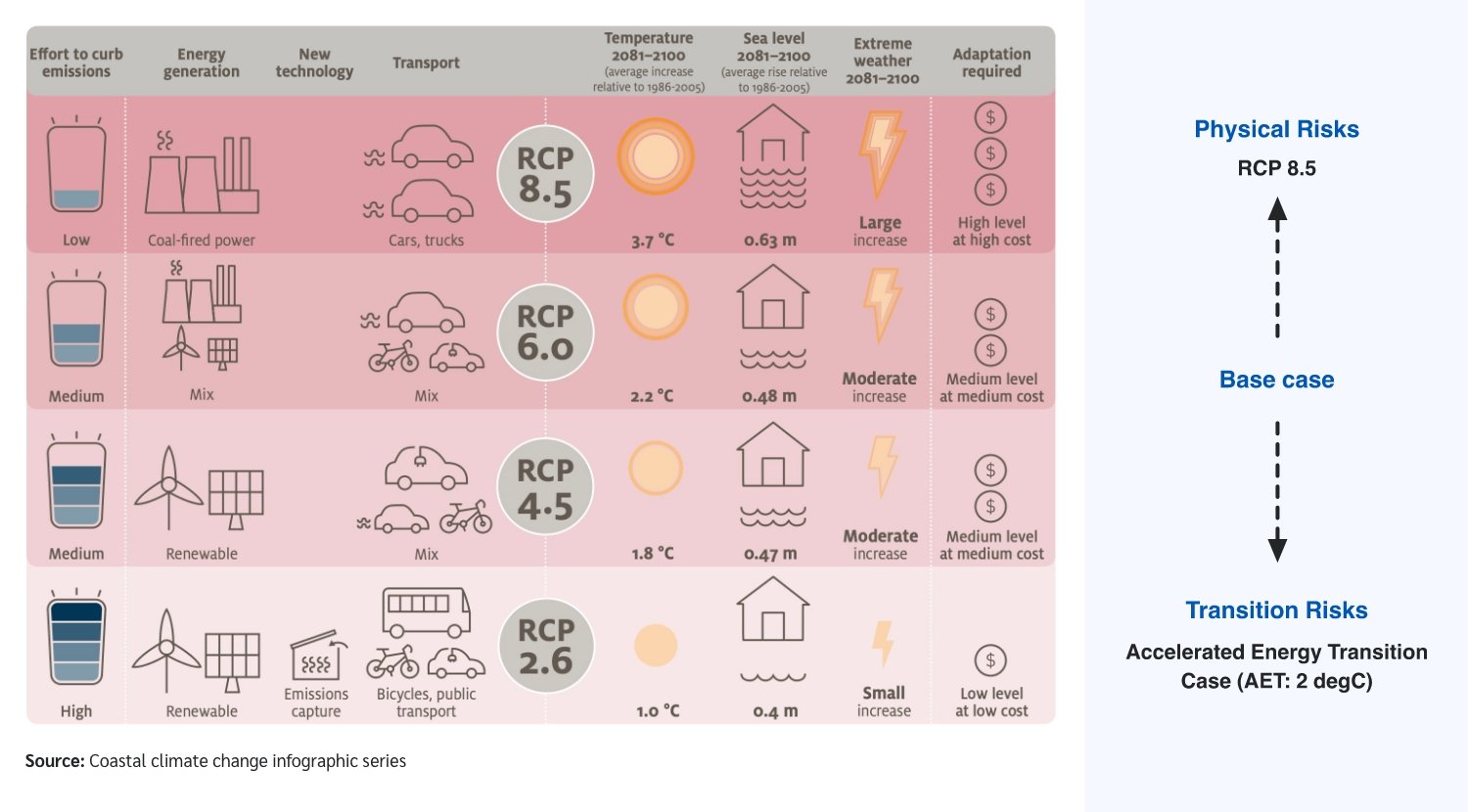 Implication to GC Business
Transition Risk Financial Implications to GC Business and Measures
GC's TCFD Report 2022
To mitigate these risks, GC has been conducting Decarbonization Pathways for being approaches to reduce carbon emissions to reach the net zero goal by implementing business activities in three approaches which including Efficiency-Driven, Portfolio-Driven and Compensation-Driven
Back to Net Zero